Top 7 Safety Accessories You Need for 4WD
Author: Road Runner Offroad Date Posted:30 October 2018
4WD stands for 4 Wheel Drive and is the go-to vehicle for off-roading activities. Four Wheel Drive vehicles are specially designed to traverse places and roads that mere city cars are not equipped to do so. The fact that it allows access for some of the most spectacular spots that nature has to offer is one of its winning points. It has enthusiasts all over the world who love hitting the open road, seeking for more and more challenging ones.
The adrenaline high is definitely one of the most satisfying feelings that off-roading brings, but if you feed it recklessly, you may be seeing yourself in accidents that could have been easily prevented if you were adequately prepared for each.
Safety precautions are a must in off-roading. The most seasoned and veteran off-roaders know that there is no such thing as being over-prepared. Recklessness on the track can cause you so many troubles, so we recommend that you pay extra attention to your safety.
One of the ways you can do this is to know all the safety accessories you will need before you hit the track. The 4WD accessories we have will make your vehicle more reliable, comfortable, and will give you peace of mind behind the wheel.
Remember that you should only get accessories that you will need, and this depends on what type of off-roading tracks you will take on. One person's off-roading accessories may not necessarily be what you need, and you may end up buying things that will only go untouched because you do not need them.
Take into consideration just what types of terrain you will be taking on, and think about what situations can arise from them.
If you are still unsure about what you need, we have prepared this article so that you will know what are the top safety accessories you will need for your 4WD.
Read on to find out how you can have a safe time behind the wheel of your 4WD!
Recovery Points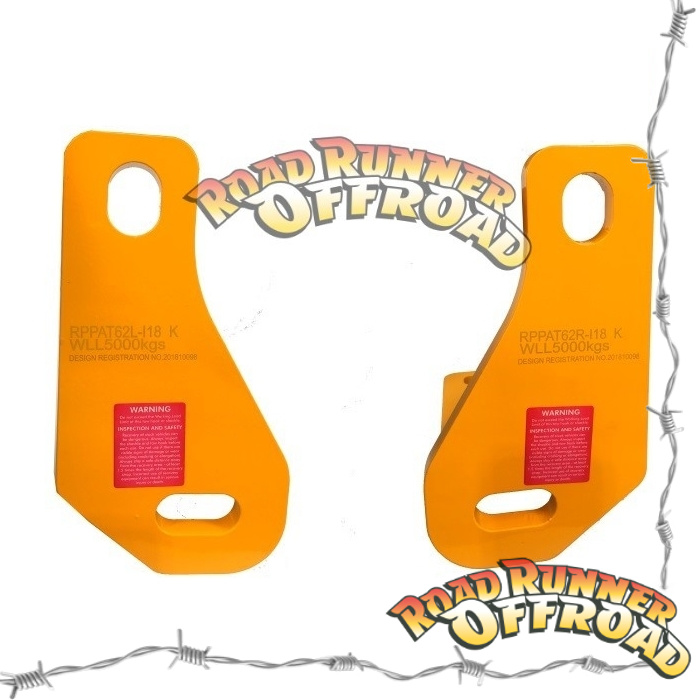 Nissan Patrol Y62 Rated Tow Points Recovery points
Let's face it: it is inevitable for four-wheel drivers to get stuck while exploring new tracks or travelling to a remote campsite. Experienced off-roaders know that recovery points are a non-negotiable must when it comes to accessories.
Recovery points are those pieces of gear that you wish never to need, but you will inevitably do. The only thing you need to ensure is that it will be reliable and robust enough to do the job.
A rated recovery point is a fixture on your 4WD that is mounted to the chassis through the use of junction welds, bolts, or both. It is used as an attachment point for recovery through tools such as the snatch strap, or other similar pieces of equipment.
These recovery points will ensure that you do not need to stress about whether or not it will be possible to recover your car should it get stuck on a muddy path or other unfortunate circumstances.
Tyre Deflators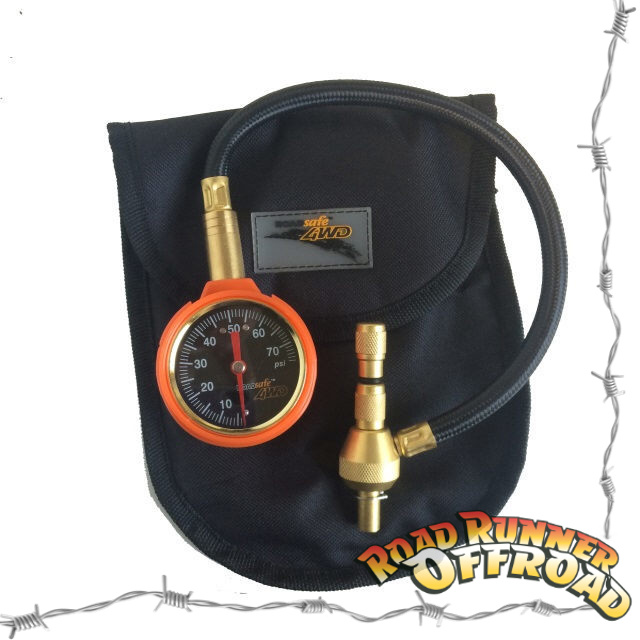 SB613 - Speedy Tyre Deflator
This handy tool will help you when you get stuck by automatically reduce air pressure in a tyre at a set level, and prevent them from any further loss of air in the tyre. As every seasoned traveller or 4WD enthusiast would know, airing down your tyres is a vital part of any off-roading trip.
Lowering the air pressure in your tyres depending on the terrain you're about to take on, and knowing how to do it properly will ensure that you have a safe and enjoyable trip.
Any time you spend out on the road travelling on either sand or dirt will have you needing this tool sooner or later. You will absolutely and unquestionably need to adjust your tyre pressures since the terrain varies from distance to distance even though you are only taking on one path.
For example, driving on sand is incredibly easier with tyres that have been deflated down to as low as five or six per square inch. However, you can't just find out how much tyre pressure is left inside by feeling around or poking a hole through it. This is precisely the situation in which a tyre deflator will come in handy!
4WD Recovery Kit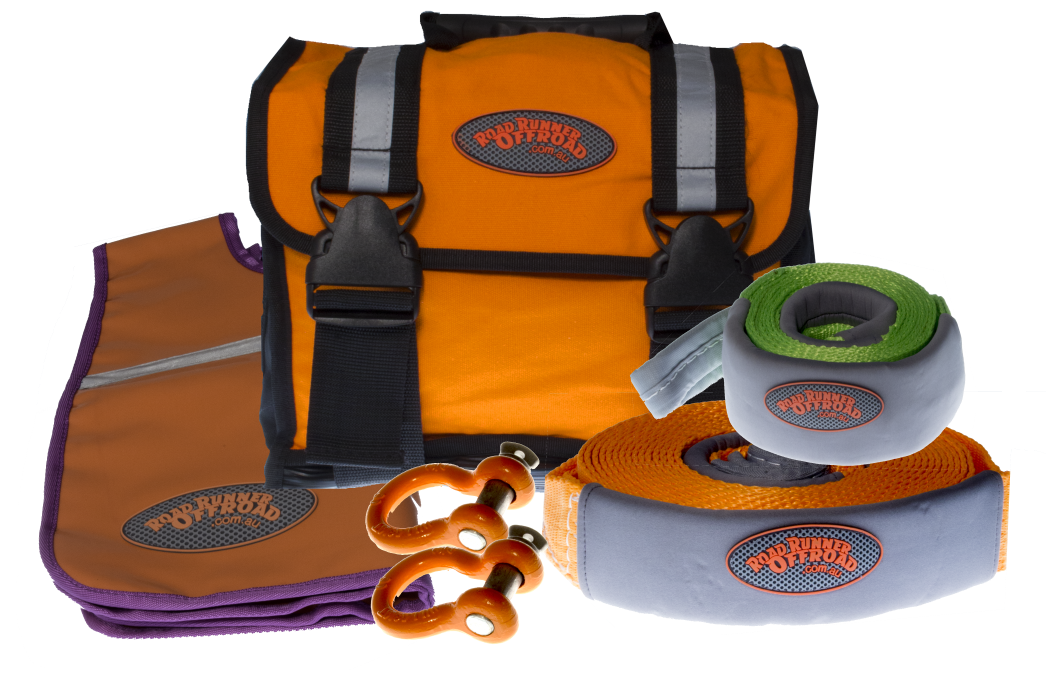 RRO Small 4wd Recovery Kit 8 Pce
Four-wheel drives get stuck for a variety of reasons, which is why you need to be ready for all kinds of them. If you are short on time, but you still want to be well-equipped before you go on your off-roading trip, then a 4WD Recovery Kit may be just what you need!
A good and reliable 4WD Recovery Kit will give you the essential tools that will address every common off-roading dilemma that one will encounter.
We recommend this purchase for those who are going on their first off-roading adventure ever. This will give you the foundation of what you need, and you will figure out what else will fit your off-roading life along the way.
You will surely find out what additional safety measures you need as you go on every trip. After all, experiences are the best teacher!
Snatch Strap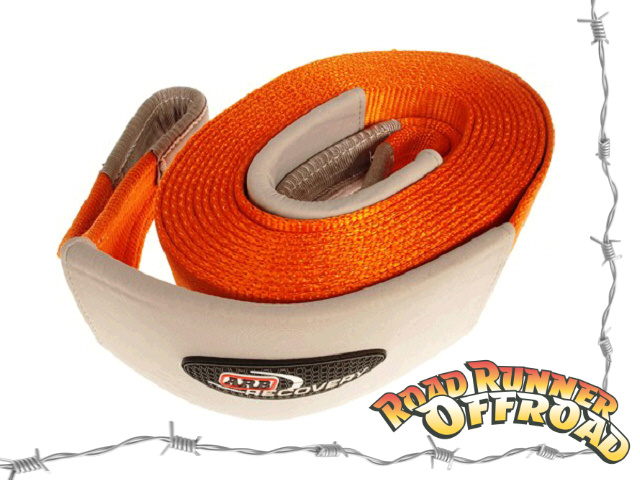 ARB705 - Snatch Strap ARB 8000kg
When a 4WD vehicle needs to be recovered, there are tons of ways for you to get it moving again. One of the most common and reliable methods is through a snatch strap! One of the leading reasons as to why it is the most common is because it is also the cheapest option, which can also be its downfall. There are tons of snatch straps out there, and you must find one of good quality.
Snatch straps are essentially an elastic tow rope that is used for recovering stuck vehicles. They can carry a variety of weights, from 4, 500 kgs to 100, 000 kgs and even beyond. Yes, you can get 100-tonne snatch straps! The recommended weight that you get is one that is two to three times the weight of your loaded vehicle. The most common one for 4WD vehicles is the one that carries from 4 500 kg to 11, 000 kg.
The main benefit of a snatch strap is that they can stretch in length by up to a quarter of its original size. This feature prevents the sudden jerk associated with using static tow chains or ropes.
These snatch straps allow for a build-up of momentum, which provides for more force to the 4WD vehicle being recovered, and gives a better chance for the car to be moved and recovered.
Winches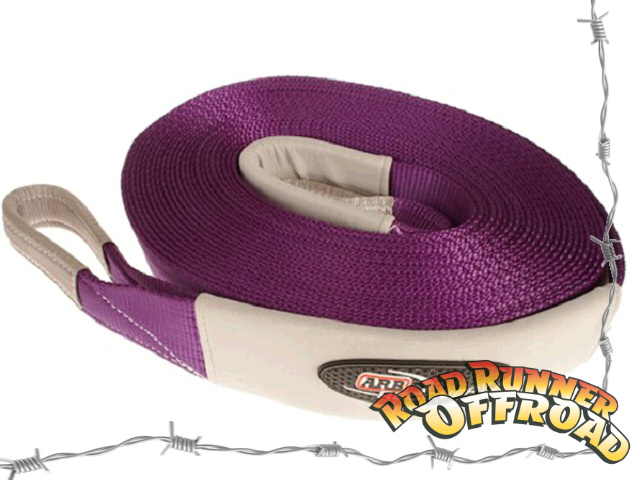 ARB Winch Extension Strap 20m x 80mm x 8000 KG ARB 725
Ask any seasoned four-wheel driver, and they will tell you that it is a very rare case when they run into a situation where a winch is not required. Even if it is not their vehicle that needs
recovering, someone from their group will need the assistance of a winch.
Winches are an essential tool for recovering vehicles from seemingly impossible situations they are stuck in. It is also commonly used to pull a truck upright after a rollover. Winches can also help clear obstacles such as rocks and logs.
A winch is an essential tool, and you should never go off-roading without one. However, there are some safety precautions you should take before you use this safety accessory.
Operating a winch is straight-forward enough, but it can also very quickly turn dangerous if not used with care. Winches come with different lengths of wire rope, and it is the length of that rope which will indicate just how much load it can carry.
One safety precaution you can take when using a winch is to always inspect the wire rope. You should ensure that it has not become frayed, kinked, crushed, or pinched at any point of the length.
Lift Kit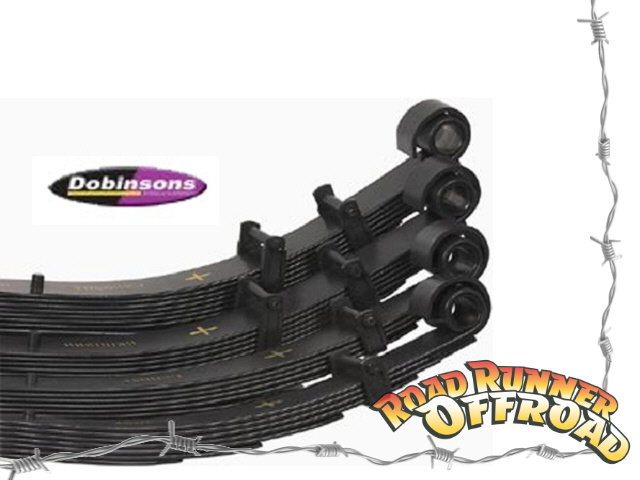 Nissan GQ UTE Patrol 2" Leaf Suspension lift Dobinson's - Medium Duty
Lift Kits have been specially designed to raise, or as the name suggests, lift a 4WD vehicle's front and rear. By lifting the body away from the frame, using a lift kit will give you an easier time when you need to install larger tires to your truck.
No matter what use you will get out of a lift kit, they produce a common result: A lift kit increases the height of your vehicle. We recommend that you take some time and think about whether or not you need a lift kit or not. While most 4WD and SUV drivers swear by them, there are still some that do not see them as a necessity.
The most common reasons why people get lift kits are because they provide higher ground clearance. This means that you will get a steeper approach and a steeper departure. You will also be able to get a better potential to tow higher weights.
However, the most resounding reason why people get lift kits for their 4WD vehicles is that it makes your 4WD look about ten times more attractive. The actual benefits are great, too!
Before you go on an off-road adventure, be sure that you check out our recommendations above! Staying safe as you take on new paths will help you make the most out of your time with nature.
To make sure that you are well-equipped for the exciting 4WD trip you have ahead, check out Road Runner Off road for the best 4WD accessories.
---
Leave a comment