$71.00
RRP $72.95
SAVE $1.95 (3%)
or 4 payments of $17.75 with

Info
If it Shows IN STOCK- We have it in our warehouse.
Tax Invoice for all purchases.
Ships from Warragul, Victoria.
Call us if you need to! We are here to help.
In Stock - Ready To Ship
Front Wheel Bearing kit
suits:
Toyota Hilux
KZN165R 08/00 - 04/05
LN107 01/92 - 10-97
LN111 01/88 - 01/98
LN167R 10/97 - 03/06
LN172R 01/98 - 09/05
RN110R 01/88 - 11/97
RZN169R 10/97 - 10/02
RZN174R 10/97 - 10/02
VZN167R 10/02 - 03/06
4RUNNER
LN130-RN130- VZN130 8/89 - 7/95
LN61-YN63 03/84 - 7/89
Contents: Inner & Outer Bearings, Oil Seal, O'Ring & Lock Washer gaskets.
Not sure if this is for you? Wheel Bearings should be checked and adjusted regaurly, if you find any metalfillings, or the bearings are making a lot of high pitched squealing, this is not good, It is the bearing starting to disintegrate, and should be replaced immediatly.
If you are planning a big trip, and you know the bearings have not been changed for a few years, it is cheap insurance to replace them anyway.
If you find oil dripping onto your tyres, then the Axel seal is damaged and allowing your diff oil to run down the axels and past the seals, the problem with this is that on its way it has to push past the grease in your wheel bearings, causing excess heat and premature wear, This can create more problem'sif left to long.
This kit is for one side only
If you plan to do both sides, you need two kits, please select two on checkout,
We have plenty in stock.
We only recommend and use quality Japanese parts for all of our maintence bearings and seals, we use Australian suppliers who believe in this as well.
All the kits we supply will use either Timken, Koyo, NSK components depending on availability at the time.
A few tips for when changing or adjusting wheel bearings, simply jack the vehicle of the ground, remove the hub and hub nut assembly, when you have replaced or repacked your bearings, place the tab washer in first, then thread the large hub nut on to the stub axel, If you have installed new bearings rotate the wheel when tightening, if you don't have a manual or torque wrench handy, tighten the nut until there is no play, when tight back of the nut no more than a quarter of a turn ensuring there is no play in the wheel or bearing, put the locking washer into position and tighten the locking nut.
Please note this product is an aftermarket product that is designed to fit the above mentioned vehicle(s), any mention of vehicle brand or model is only to allow you to establish the correct fitment for your vehicle, and is not indicating that the part is manufactured by the original vehicle manufacturer.
(DT-WBK4)
| | |
| --- | --- |
| SKU | DT-WBK4 |
| Brand | Drivetech 4x4 |
| Shipping Weight | 1.1000kg |
| Shipping Width | 0.100m |
| Shipping Height | 0.060m |
| Shipping Length | 0.100m |
We Also Recommend
AISIN MANUAL Free Wheeling Hub for Toyota Landcrui
$191.00
REAR Wheel Bearing Kit for Toyota Hilux RZN169, RZ
$80.00
You May Also Like
AISIN MANUAL Free Wheeling Hub for Toyota Landcrui
$191.00
REAR Wheel Bearing Kit for Toyota Hilux RZN169, RZ
$80.00
More From This Category 42427-60021K Hub lock nut, washer & screws kit sui
$79.95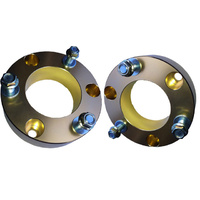 CSSHIL25 Hilux 25mm Coil Strut spacer 02/05 to 03/
$129.00